How Much Does it Cost to Paint a House?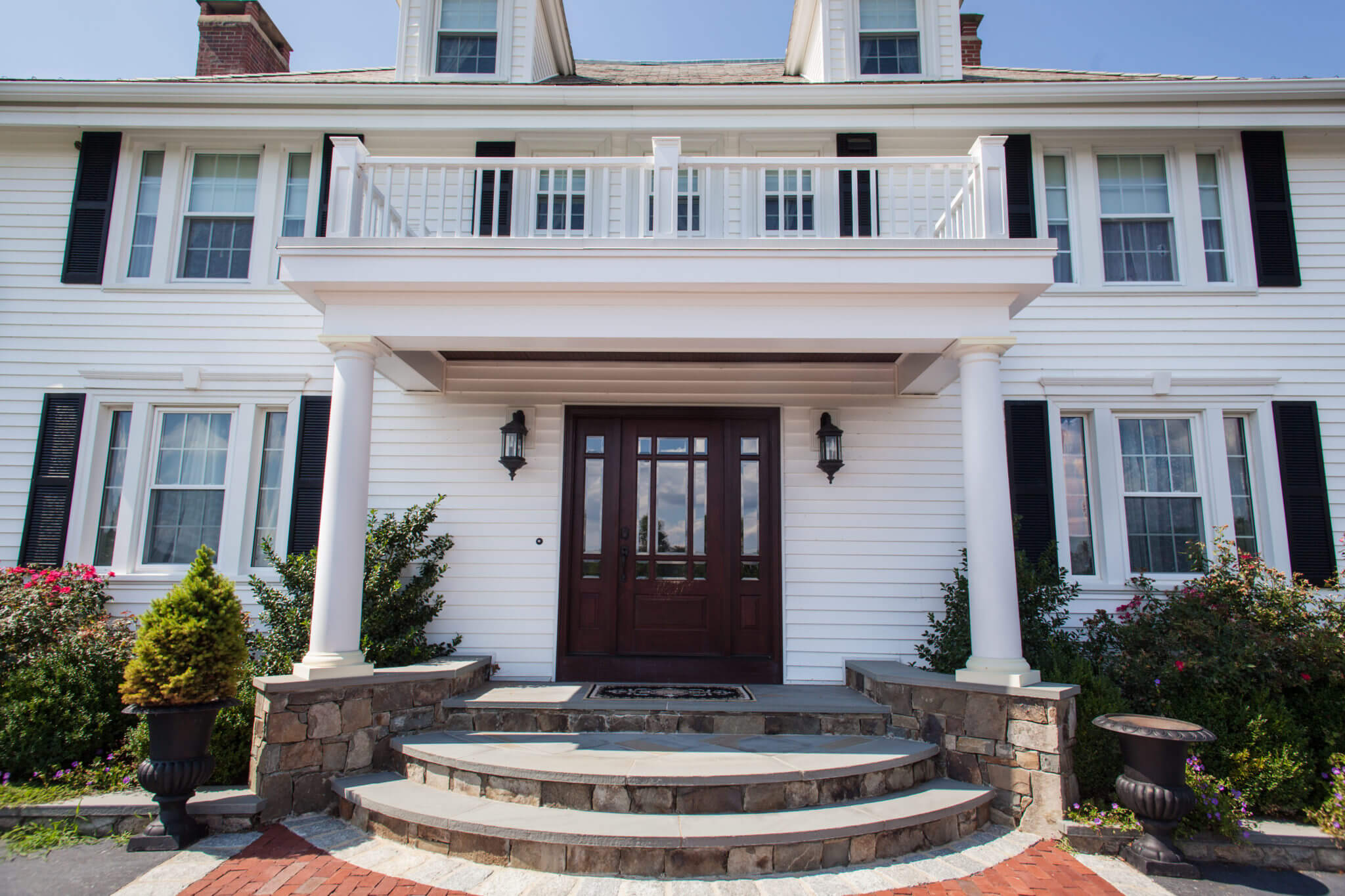 There are many reasons to consider painting your house; the current paint job is fading or chipping, you want to brighten up or change the exterior color, or you just want to increase curb appeal. Either way, painting your home's exterior is a big undertaking that requires a lot of planning and prepping to complete. Before hiring painters or contractors near you, you'll want to learn what may be involved in your project's costs.
Generally, professional painters and contractors will provide a basic estimate based on the square footage of your home. An average size single-story house that's around 500 to 1,500 square feet will cost in the range of $1,000 to $3,000 to paint. Because there's more square footage, a two-story or three-story house will cost more. A three-story house can cost upwards of $6,000 or more.
However, there are a number of different factors, besides square footage, that can affect the overall cost of painting your home, including the type of exterior, ease of access, amount of supplies needed, and painting additional architectural features on the house.
The type of construction material used on your home's exterior can also affect the overall price. It can cost more to paint certain types of materials because of the material texture, type and amount of paint required, and any specialized materials needed to prepare it for painting or to last longer in the elements.
For instance, painting concrete siding requires previous finishes to be removed first to avoid peeling or chipping paint. The concrete needs to be sealed, primed, and painted with specific materials that are designed to protect the concrete from exposure to the climate.
Stucco is another exterior material that has a very involved preparation process that makes it more expensive than other materials. Stucco generally needs cleaning, caulking, cracks filled in, and more before the painting can even begin. Certain paint types are required to maintain the texture and withstand weather conditions.
Metal siding, on the other hand, is easy to prepare for painting, but increases in cost if the metal is damaged or rusted and needs to be stripped or repaired first.
Wood siding tends to fade, chip, and rot more quickly than other cladding, so it requires a painting refresh more often to protect it from sun and water damage. Wood siding can be painted or stained for protection, but will need to be repainted more frequently due to the wood becoming weathered. If the wood needs to be repaired beforehand, that will naturally increase the cost of painting.
Vinyl siding, on the other hand, is very easy to maintain and won't weather as easily as wood does. It doesn't peel, chip, crack, fade, or rot like other materials. New vinyl siding comes in so many color options, and withstands even harsh weather conditions, that newer siding usually won't need to be painted, if properly maintained. If your vinyl siding does need painting, it's most likely because it's fading and approaching its lifespan – around 20 years or more, in which case it's more beneficial and cost effective to replace the siding at that point. If you should decide that you want to paint your vinyl siding, painting is a relatively simple and quick process for the painting professional.
The average cost to paint a house is only the base price for labor. You still need to factor in the costs for paint, supplies, and repairs. Determining how many square footage your home is and the amount of paint needed for two coats, for instance, will give you a better idea when calling professional painters and contractors nearby for an estimate.
Using the highest quality paint for your home will give you maximum coverage and durability for longer. Better coverage and durability means your paint job will stand up better against the elements, last for more years before you'll need to paint again, and overall look more beautiful on your home than a cheaper paint will. High-quality paint will cover roughly around 350 square feet for two coats. A 1,400 square-foot home, for instance, will average around 8 gallons of paint for two coats or at $65 per gallon, it would cost an additional $520. You'll always need to add 10 to 20 extra square-footage to your home to account for rough surfaces that need additional paint.
Supplies will vary according to your home, but one thing is for sure, your painter will need a variety of supplies to complete the job including brushes, rollers and handles, drop clothes, painter's tape, caulk, scrapers, ladder, buckets, sandpaper, and more. These painting supplies, on average, usually run no more than $200-$300 at the home improvement store.
Additionally, if you decide to paint other exterior features, you'll need to check with potential painters to find out how they charge for painting exterior features such as porches, decks, trim, doors, and other exterior architectural features around your home. Exterior architectural features can range in price from $70 to paint a door, all the way up to $2000 or more to paint a porch. Exterior features can be included in a package deal or charged separately, so always find out how these are priced before agreeing to a contract.
The EPA requires all painters to check for lead paint before sanding and painting, especially if the home was built prior to 1978. A professional painter will test the paint after they're hired, you can buy a do-it-yourself kit, or hire a lead testing and removal company to check for you. Lead paint is very dangerous and if found, will need to be professionally removed.
There's a lot of work and hidden costs that go into painting a house. Paint can last anywhere from 3-7 years depending on the conditions, the material being painting, and the quality of the job. Before deciding to paint your home, weigh the pros and cons of having to repaint every 3-7 years including the costs and amount of work involved. Does it make more sense to install a low maintenance option such as vinyl siding that lasts longer than painting every few years? If you feel that painting is still your best option, call around to find the best estimate and make sure all of the costs that we discussed are included in the contract.
If you find you need to replace an old roof, upgrade your windows or doors, or replace your home's siding, we're here to answer your questions and help you protect your home for the future.
We're ready to help you get started with your project!
For a free estimate and consultation for your roofing, siding, or windows, call us at 401-438-1499 or email info@marshallbr.com.
Get helpful tips in your inbox
We send one email per month – that's it. Our goal is simply to help you navigate the world of home repairs.