Get to Know GAF: Industry Experts on Roofing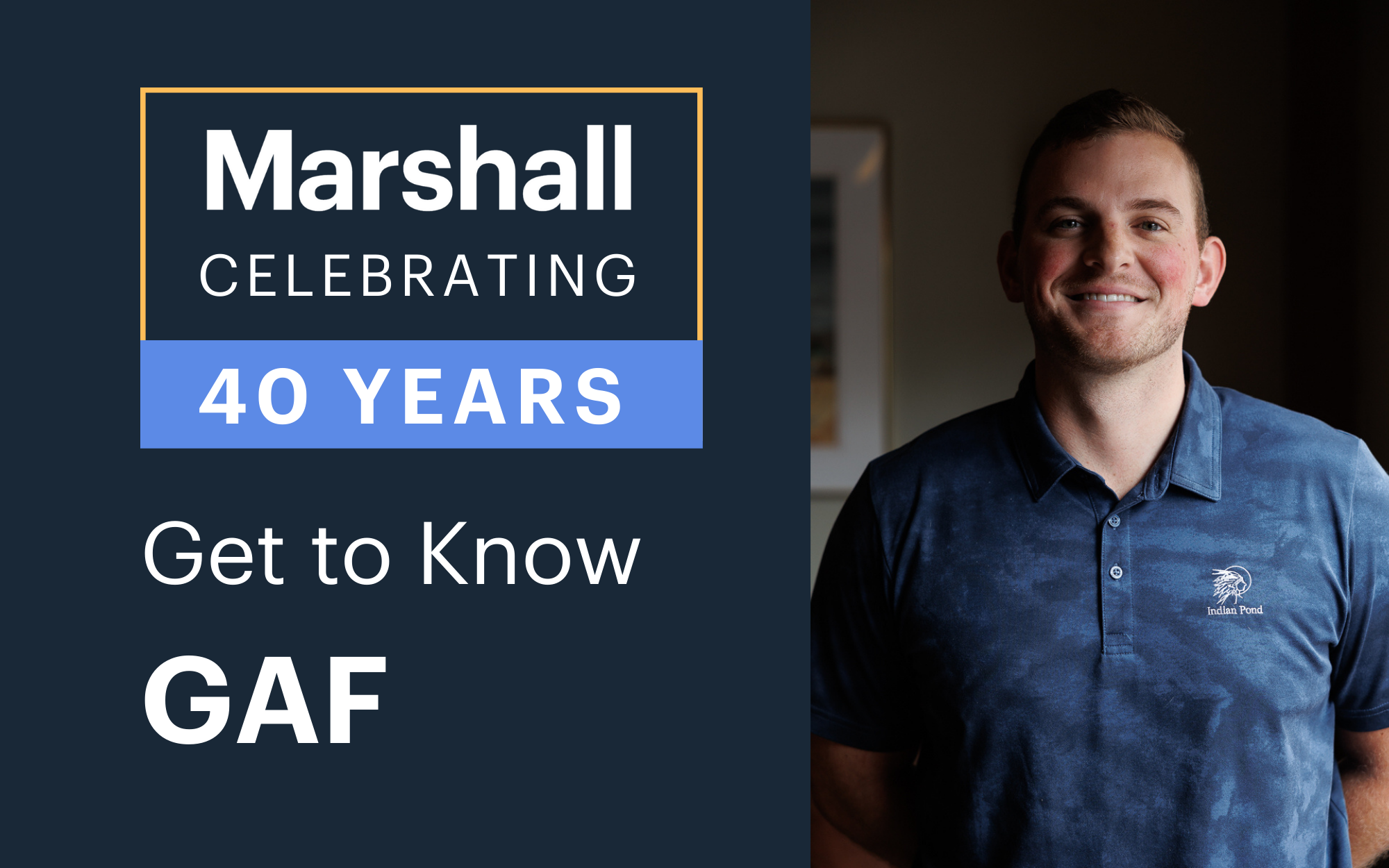 For our 40th anniversary, we want to capture 40 stories from past customers, members of Team Marshall, and industry partners. We sat down with Chad Howell from one of our favorite roofing manufacturers, GAF. Chad has been a wonderful partner to us over the years and we wanted to give you a peek into GAF's amazing history and some exciting innovations you should know about.
How long have you been with GAF? What's your favorite part of your role?
"2022 marked 6 years with the company! I started out in 2016 covering the Carolinas and my wife and I moved to New England in 2018. My favorite part of my role is by far the friendships and partnerships I have made along the way, with both customers and colleagues alike. I'm lucky enough to work with some of the brightest minds in the industry and that is truly what I value most."
Can you tell us about GAF's history? We know the company has been around for a very long time!
"GAF was founded back in 1886 (originally known as Standard Paint Company). Shortly after in 1892, we created the first ready-to-lay asphalt roofing product called RUB-ER-OID. From that point on, providing innovative roofing and waterproofing solutions would be the company's sole focus. In 1967, we developed the Timberline shingle which is now the #1-selling shingle in North America! Fast forward to 2022, through the introduction of numerous innovations and advancements to the industry, 1 in every 4 roofs is a GAF roof!"
What are some of the recent or upcoming product innovations homeowners should be excited about?
"One of the most impressive innovations has to be our WindProven warranty, which is the industry's first wind warranty with no maximum wind speed limitation! We also have StainGuard Plus that comes standard on many of our shingle options, which gives homeowners 25-year protection against blue-green algae (those ugly, dark streaks seen mostly on older roofs)."
Marshall and GAF have been partners for a long time, what do you think makes Marshall stand out in the roofing industry?
"The thing I admire most about Marshall is the family-first culture. They have high standards for both installation and customer service. They treat your customers like family and treat their customers' homes like their own. Plus, through their focus on installation excellence, consumer protection, and continuous training, they have achieved both the GAF Triple Excellence Award as well as our most prestigious honor – The President's Club Award."
What do you think makes a great contractor?
"I believe a great contractor is one with ample experience, a good reputation, trustworthy, and treats a home like it is their own. A home improvement project can be a big undertaking, and the average homeowner will replace their roof just once in their lifetime. Knowing that they are hiring a contractor they can trust and one who will listen to their needs and explain what they are doing and why they are doing it can make the process a lot less stressful."
Thank you for taking the time to chat with us, Chad! We look forward to many more years working with GAF.
Get helpful tips in your inbox
We send one email per month – that's it. Our goal is simply to help you navigate the world of home repairs.