Classic Cedar Shingle Look with Modern Vinyl Siding Benefits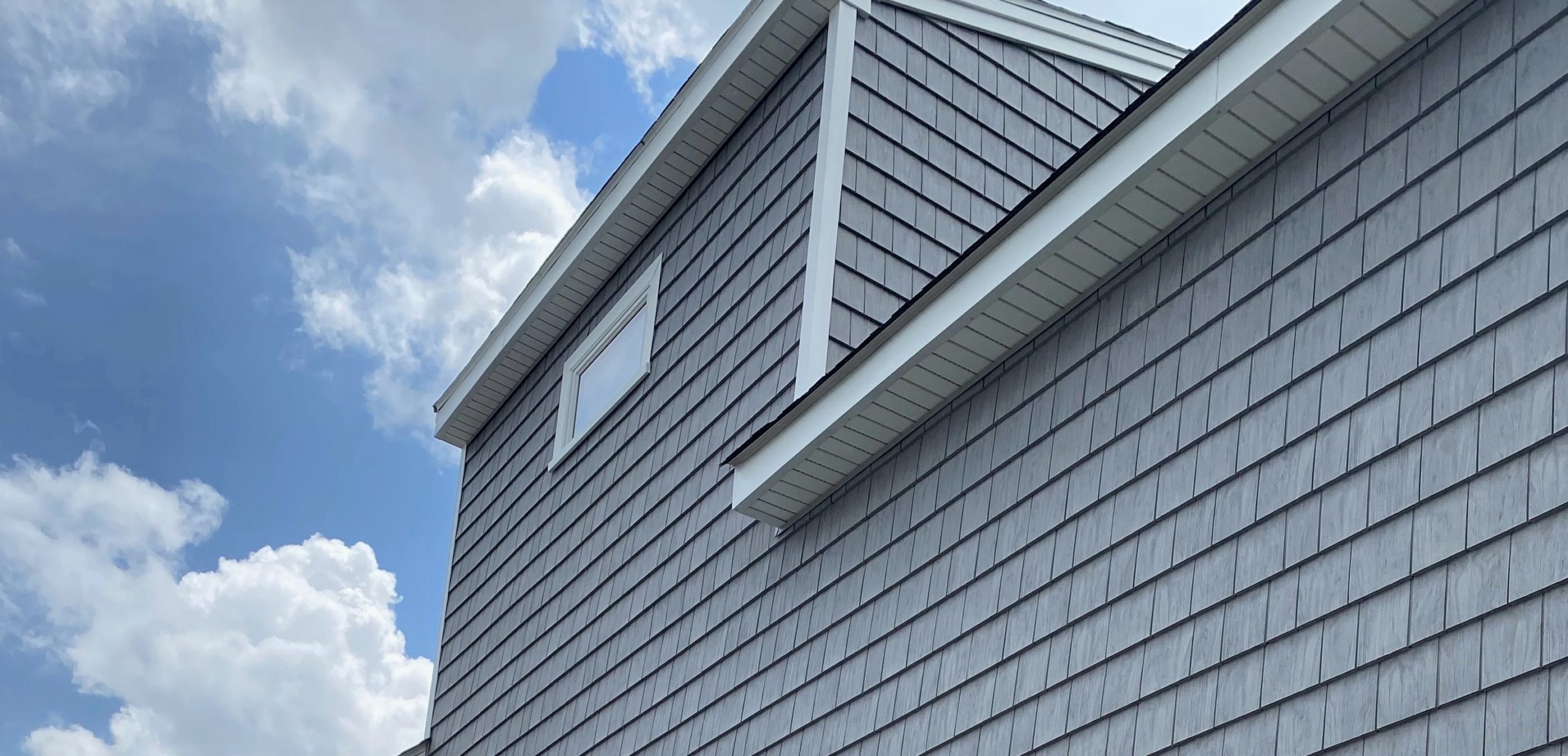 Cedar shingles are a classic style for homes throughout New England, especially along the coastline. In Rhode Island towns like Westerly, Jamestown, and Little Compton, you'd be hard pressed to find a neighborhood that doesn't have a cedar-shingled home. Although a very attractive aesthetic, there are some downsides to this traditional siding choice.
Perhaps the biggest reason cedar shingles are not as popular with today's homeowners is the cost associated with maintaining them. Both the material and installation costs are higher when compared with similar vinyl options. Not to mention, repairs to this type of siding cause the home to have sections of unweathered shingles that don't blend in. Other issues include vulnerability to sun exposure, animal infestation, mold and mildew, as well as untreated wood shingles being highly flammable.
For selective homeowners looking for the beauty of cedars without maintenance, CertainTeed's Ageless Cedar Color Blend technology can give you the look of classic cedars, but with the longevity and competitive pricing of vinyl siding. Ageless Cedar is available in four classic color sets:
Natural Blend – Provides the look of freshly cut white cedar that will keep its bright appearance for much longer than regular cedar shingles.
Driftwood Blend – Gives the appearance of aged white cedar shingles without having to wait several years for natural wood to mature this way.
Cedar Blend – Offers the appearance of newly cut red cedar with its beautiful warm undertones.
Rustic Blend – Delivers the look of matured cedar shingles that have consistent weathering pattern without getting uneven over time.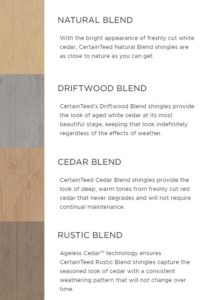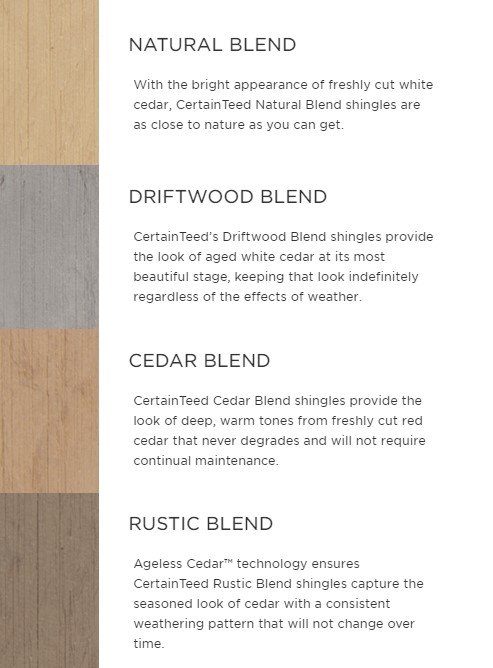 According to several siding ROI reports, cedar shingles will recuperate 77% – 80% of their original installation cost when selling your home. High quality vinyl siding, expertly-installed, has a reported 98% return on investment. So, homeowners can get the classic look of cedar shingles, save money on installation and maintenance, and recoup nearly 100% of their investment if and when they sell their homes. These reasons are why today's savvy homeowners are starting to turn to modern vinyl siding.
Traditional Wood Cedar vs. Ageless Cedar Driftwood Blend Comparison


If you're looking for the classic cedar appearance, but with the benefits and competitive pricing of high-performance siding, call us to discuss your options. We will be able to show you product samples, pictures of our past projects using Ageless Cedars, and create digital renderings of your home with the different products and color options.
We're ready to help you get started with your project!
For a free estimate and consultation for your roofing, siding, or windows, call us at 401-438-1499 or email info@marshallbr.com.
Get helpful tips in your inbox
We send one email per month – that's it. Our goal is simply to help you navigate the world of home repairs.