What should be included in a contract for replacement windows and doors?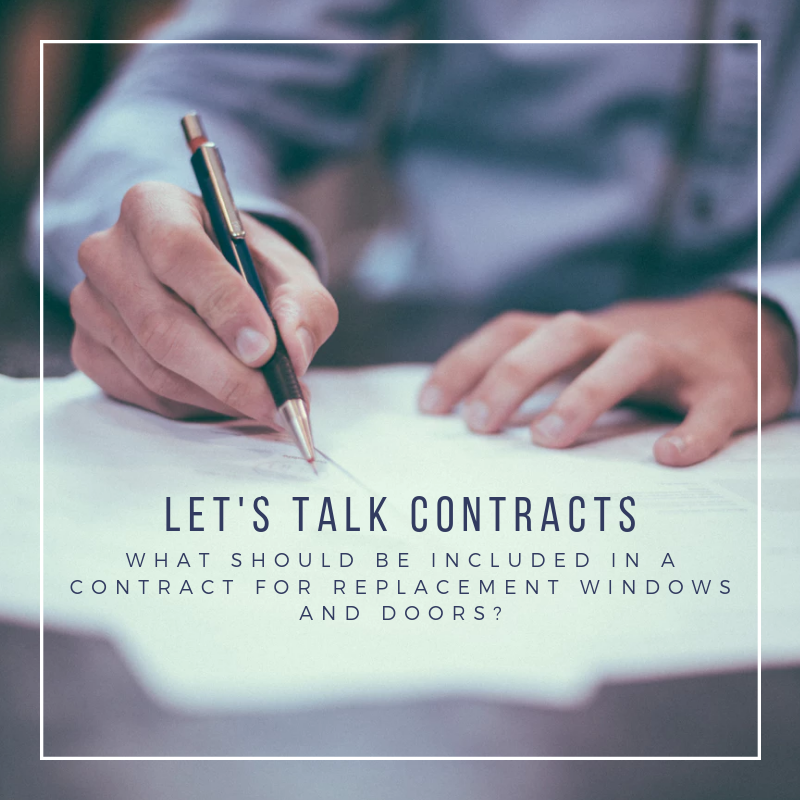 No one likes unpleasant surprises, especially when it comes to costly home improvement jobs. To avoid any surprises before or after the job is completed, here is what to look for before signing your window and door installation contract.
Building Permits
Some locations require a building permit for replacement windows and doors. Make sure that the contractor applies for all building permits within your town or city and that it's included in the contract. If a building permit is required, who pays the fee?
Building Codes
It might seem like common sense, but make sure that the contractor notes that they will follow all state and local building codes, which makes sure they'll install replacement windows and doors up to code.
Unknown Damages
There should always be a contingency for unknowns. For instance, if the window installer finds rotten wood around the frame of the window, will they replace it or will you need to hire another contractor? If they replace it, what are the costs to do so?
Window Sizes
Some installation companies include the window sizes in the contract. If you're having a standard window size installed, then including the standard size is fine. If however, you're having custom window sizes installed, it's not necessary to include the window measurements in the contract. Doing so binds you to those measurements. If the windows were measured wrong, you signed the contract and agreed to them, whether they're right or not.
Delivery Charges
Who will be delivering your windows? Some installers charge extra to deliver the windows. You might be able to save money if you can make your own arrangements. Also be aware that there can be extra fees for installers to carry windows upstairs, or up to a deck.
Distance Surcharges
If the window dealer is located further than their locality, you might be required to pay a surcharge for extra mileage. If this is the case, always make sure you know beforehand what the additional cost will be and if it's included in your final payment and noted in the contract.
Sub-Contractors
If the window installation company hires sub-contractors for any part of the job, this will need to be disclosed in your contract.
Window Coverings & Furnishings
Window treatments and any furniture in front of, or near, your windows and doors will need to be moved out of the way before any work can begin. Does the contract include the installation crew removing the drapes, blinds, and furniture, or do you have to do it yourself? If the window installation company does it, do they charge an extra fee for this service? Make sure that's listed in the contract.
Alarm Systems
Alarm systems can be very tricky for window installers. It can be a liability for the window company, who's not knowledgeable of alarm systems. If you have an alarm system with window and door sensors, make sure you have your alarm company disconnect and reconnect the alarms before and after the installation, and that this is noted in the contract.
Trim Replacement
The trim around your windows, inside and outside of the house, might need to be removed to install the windows, depending on the type of windows. Will the window installation company replace the trim after the windows are installed or will you need to hire a separate contractor to finish the job? If the window installer will replace the trim for you, will there be an extra replacement cost or this included in the job? This should be outlined in the contract before signing.
Window Removal
Since most cities charge dump fees to dispose of old windows, not every installer will haul away your old windows. Ask prior to signing the contract if your window contractor will remove old windows or if this is your responsibility. Additionally, some installers charge extra for this service.
Clean Up
Replacing your windows can leave debris of wood, scraps of aluminum, and/or nails around your property. Make sure your contract includes cleanup.
The contract should also clearly outline the type of windows you are having installed and what's included with the installation. However, this list should give you a good idea of what to look for. If something isn't included in the contract, it's always a good idea to ask about it, if it's important, ask that it's included in your contract before signing. Always agree upon and disclose of costs in the contract. It can save both parties from any mishaps before, during, and after the job is completed.
Get helpful tips in your inbox
We send one email per month – that's it. Our goal is simply to help you navigate the world of home repairs.