Get to Know Meg: Our Customer Experience Manager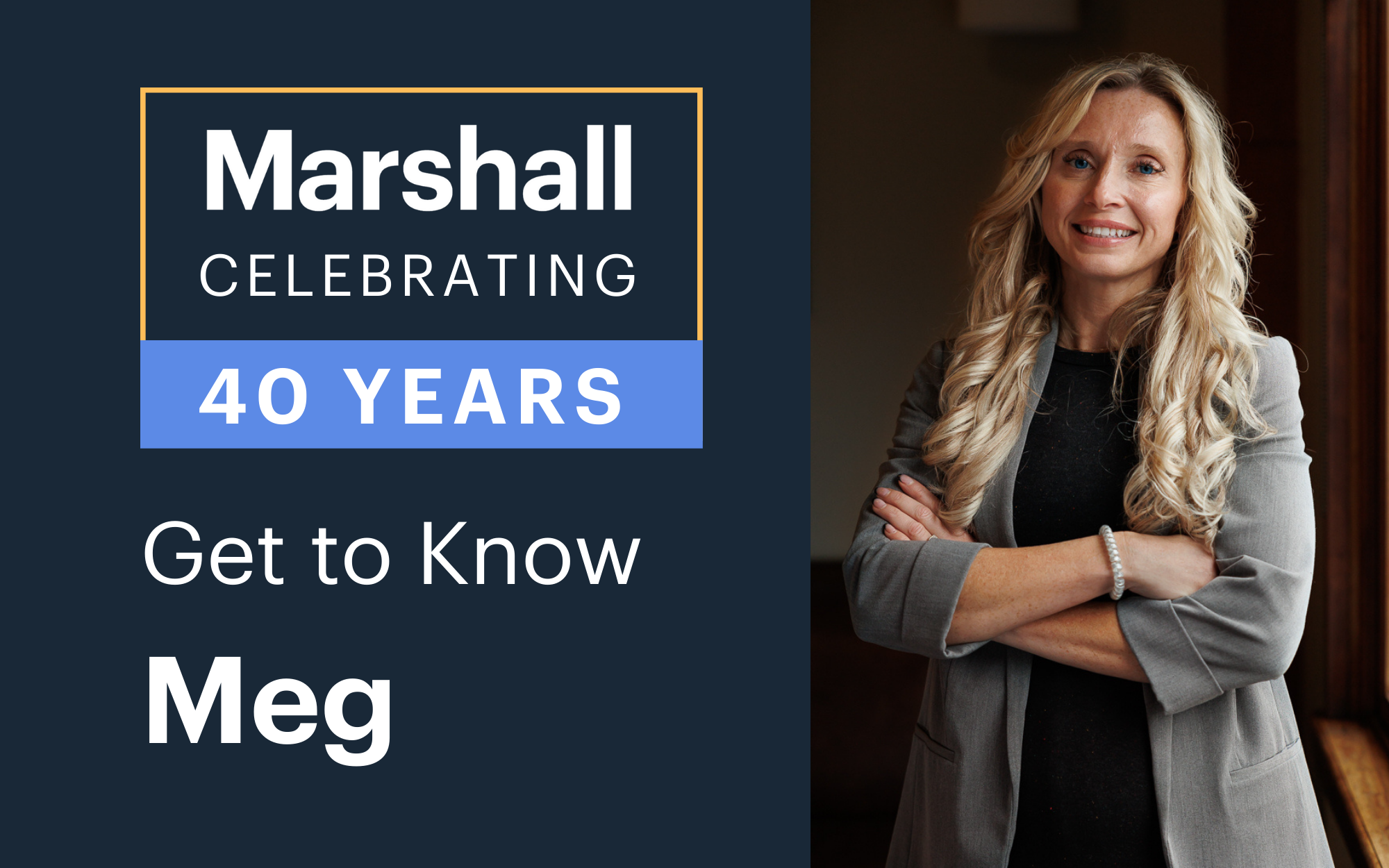 For our 40th anniversary, we want to capture 40 stories from past customers, members of Team Marshall, and industry partners. For our first interview, we chatted with Meg McCaffery, our wonderful Customer Experience Manager. Believe it or not, Meg works with every project at Marshall and personally speaks to each homeowner before and after the project. Get to know a little bit more about her:
How long have you worked at Marshall? What were some of your previous responsibilities and what are you doing now?
"Almost 5 years. When I first started, I worked in the front office answering incoming calls, appointment setting, generating new leads and assisting with any duties in the front office. I moved into scheduling for a short period, and currently I work as the Customer Experience Manager to ensure the customer experience is a top notch "Marshall Experience" from beginning to end. I help onboard customers and guide them through the process from their initial visit, through scheduling, installation and finished product."
What's your favorite part of your current role?
"I genuinely love getting to know our homeowners and building a relationship with them. It is so rewarding working with people that have put their trust in our company to remodel and improve one of the most important things in their lives, their homes."
What do you think makes Marshall stand out? Why do you like working here?
"Marshall truly is one of a kind in the industry. They genuinely care about their customers and always work hard to find solutions that benefit them without hurting the company. The work that is put into every step of the process to make sure homeowners are comfortable, informed and happy throughout the whole process is really remarkable. Not to mention the installation teams are trained well, take a lot of pride in their work and are very talented. So much so that we warranty all of our work for 15 years, which again is something you will not find with any other company. I love working here because it challenges me professionally every day and is so rewarding. Working with a team of such elite professionals I realize we are really capable of amazing things and can really make a difference in the community."
In your own words, what do you think makes a great contractor?
"Great communication, honesty, transparency, great workmanship, takes pride in their work and stands behind it, cares for their customers."
What's one of your favorite memories from Marshall?
"Over these past several years I have so many great memories at Marshall, but I love helping out in the community. We volunteered at the RI Food Bank, sponsored a family at Christmas for RI Child & Family Services, participated in Goodnight Lights, and ran in a sponsored town road race. Those are all some really great memories for me personally. One memory that I will always remember, is when I first started working here, a homeowner came into the office, just to stop in and say hello. Once we started talking he shared with me that Marshall had done work on several generations of his family's homes. He told me a story of Tom Marshall helping his Dad when a contractor left in the middle of his siding job and never returned, his father had already paid him and he just disappeared. Desperate, he reached out to Marshall. He spoke to Tom, and after Tom heard the story and realized the position his Dad was in, he sent a crew out immediately and finished the job. He also let his Dad make payments until the job was paid in full, which was not typical. He said his father was forever indebted to Tom Marshall for that and as a result for three generations now his family has never used another contractor and never will. I knew in that moment what Marshall Building & Remodeling was really about. I couldn't be more proud to be a part of this team."
Thank you for taking the time to chat with us, Meg! We are so grateful for all that you do. 
Get helpful tips in your inbox
We send one email per month – that's it. Our goal is simply to help you navigate the world of home repairs.