A Refreshing Change For Home Remodeling Industry – How Female Leadership Makes A Difference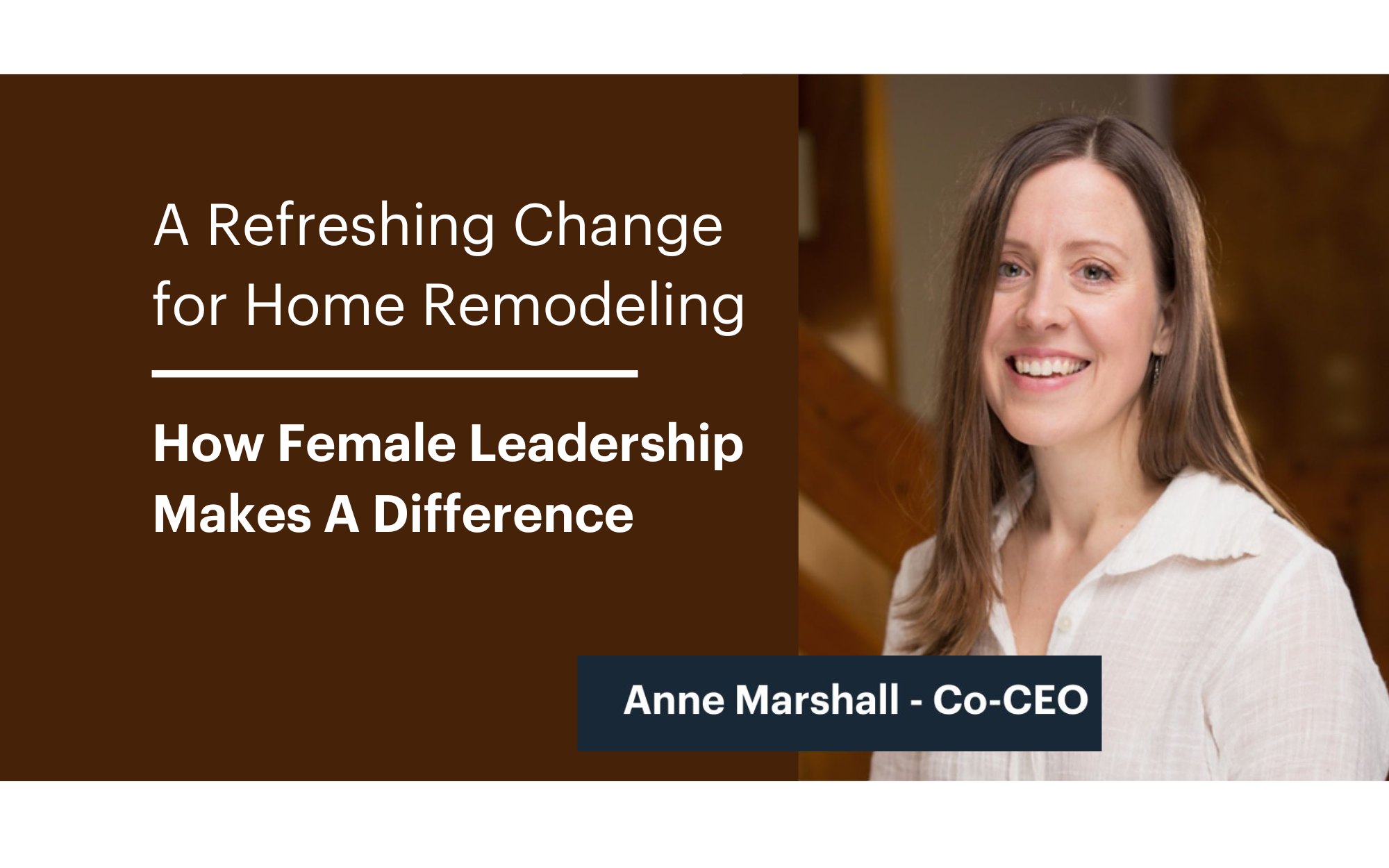 When Anne enters the office, she has a coffee in one hand, two bags draped on the opposite arm, which is also cradling her dog, Connelly. She stops to pick up his lagging leash with a free finger. You can tell she's used to multi-tasking. She laughs as she enters and makes a quick joke about all of the things she's carrying. She moves like she's busy, talks faster, and has an aesthetic that is both thrown together and professional (with a European twist).
As a co-owner of Marshall Building and Remodeling – a Roofing, Siding, and Window company based out of Rhode Island – Anne is used to the proverbial juggling. There are the three services, the various departments that handle each, maintaining her contractor's license, the marketing and finance departments, staffing and parking. As any business owner knows, the list goes on.
Marshall has been in business since 1983. Their customer-centric approach has worked to define industry standards. They set the bar for installation technique, customer service, and warranties. In a recent Ducker report, their score was noted as the highest national rating in customer satisfaction ever seen by the independent research company. They are a rarity. A local, family-owned company that is both excellent and affordable.
When I sit down in Anne's office, Connelly is under the table. She first gets him a bowl of water and then she settles in for our interview. She is sitting on a modern, mustard sofa. It is between the wall and a small, light-wood conference table. The look of the office, like Anne, reads fun and lively. I'm sitting across from her in a black chair. She jokes again, this time about the space. Her desk looks rarely used. Her laptop bag, quite the opposite. I get the sense she is a woman who works efficiently on the move, but she manages to maintain a sense of humor that is personable and disarming.
After a few minutes of small talk and dog loving, I ask her if it's ok to begin the interview.
How did you get into the home services or trades and how is it being a woman in this space? I mean it is traditionally a male-dominated industry.
I was fortunate to be introduced to the industry by my father Tom, who founded our company in 1983. I don't think I would have considered the home remodeling space otherwise, but over the years I've come to see the many paths toward success in this industry for women. It's exciting to watch that evolve. From the very beginning I've known that it's our team who makes the difference in our customer's lives, and it's important work, what we do. Improving people's homes and helping them feel protected and respected along the way is where we shine. So I definitely don't do it alone. We have an awesome team of women here: in leadership roles, on staff, and in the field. Their skills consistently help us evolve. They bring excellent communication, organization, and years of experience to our company. Aligned with our no-pressure consultations, our goal to be educators, and our practice of recognizing women homeowners as decision makers (which, even in 2023, isn't the industry norm), we are setting a new standard in roofing, siding, and window replacement.
How do you think you are setting a new standard for contractors?
Well, we never cut corners. We promise the best installation crews, production teams, service department, and warranties around. We continue to train on all fronts, from installation to college education. It all comes down to keeping our word, doing the best work possible, and respecting our clients. All of them.
How are you helping women homeowners, specifically, to feel comfortable hiring contractors? 
I felt passionately about hiring a female member of our sales team. I'd like to continue to see that grow. We also have a no-pressure consultative approach versus the traditional high-pressure sales and gimmicks. My dad always had a vision of elevating customer service. Over the last 40 years we've designed our processes around that idea. This includes good communication between teams and with customers, not requiring a two-party sit-down for appointments, providing resources to educate and help people make the best choices for their home and budget, scheduling on nights and weekends. It's an exciting space and I love to share that with other women.
In general, how does Marshall give homeowners the best possible experience?
I think I may have covered this throughout, but it comes down to communication, talented installers, continued training, educating and respecting clients, a team that shares our same values and understands our mission. The great warranties and fair pricing also help.
You can find Marshall Building and Remodeling in Riverside, RI. Their spring schedule is already filling up, so it's a good time to get in touch. They've been a local favorite in RI and southeastern MA for years, but are currently expanding into Norfolk County. If you take a glance at their reviews, you'll easily see why they're the valued and trusted source for Roofing, Siding, and Window projects. 
Get helpful tips in your inbox
We send one email per month – that's it. Our goal is simply to help you navigate the world of home repairs.