Top-of-the-Line Fiber Cement Siding for Homes Throughout Rhode Island & Southeastern Massachusetts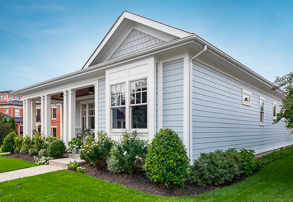 Siding covers most of your home's exterior and plays a key role in your home's energy efficiency, curb appeal, and protection against the elements. So, if the siding on your home is missing sections, worn, or simply outdated, it's worth investing in a replacement. Based in Riverside, Rhode Island, Marshall Building & Remodeling is proud to provide an industry-leading value on fiber cement siding from the trusted brand James Hardie. Perfect for homes ranging from historic to modern, fiber cement siding offers attractive benefits for any homeowner.
Benefits of Fiber Cement Siding
Having fiber cement siding installed on your home in Rhode Island or southeastern Massachusetts is an easy choice to make. There's a reason why this siding system has been installed on more than 10 million homes throughout the country. Simply consider all the advantages that come with Hardie board siding, including:
Outstanding Performance
James Hardie's fiber cement siding offers industry-leading protection that lasts. For example, it is highly resistant to moisture and rot, insect infestation, and weathering, even after years of exposure to extreme weather. Fiber cement siding also provides exceptional fire resistance to protect your home and family.
Flexible Siding Design Options
James Hardie siding offers lasting beauty that you can customize. It features a natural woodgrain texture and is available in numerous colors. And, thanks to its ColorPlus® baked-on finishing system, Hardie board siding retains its vibrant color long into the future.
Additionally, you can choose from a variety of siding styles for your project, including clapboard, vertical, and shingle, to suit the architectural design of your home.
Energy Efficiency
James Hardie siding is manufactured for specific climate zones, which means we install a product that is ideally suited to New England homes. This ensures that it will provide not only excellent performance in our often harsh climate but also reliable insulation that can help keep your heating and cooling costs under control.
Outstanding Warranties
When you choose fiber cement siding installation, you can have peace of mind knowing your investment is protected. James Hardie backs its siding with a 30-year warranty. Plus you'll receive a 15-year workmanship warranty from Marshall Building & Remodeling.
Why Choose Us for Fiber Cement Siding Installation?
Even the best siding won't perform as expected if it isn't installed correctly. Fortunately, when you choose Marshall Building & Remodeling, you'll receive a precise installation from highly experienced and trained installers. In fact, we are a James Hardie Elite Preferred Contractor thanks to our record of detail-oriented workmanship and customer satisfaction.
Moreover, we are committed to delivering old-school customer service, including a hassle-free and enjoyable remodeling experience. Our no-pressure, consultative process will ensure you get exactly what you want from your fiber cement siding installation project. We also offer flexible payment options and don't require payment until your siding installation is complete.
Learn More About Fiber Cement Siding
Contact Marshall Building & Remodeling today for more information about the benefits of partnering with us for fiber cement siding installation. You'll soon see what makes us the leading siding installer serving homeowners throughout Rhode Island and southeastern Massachusetts.